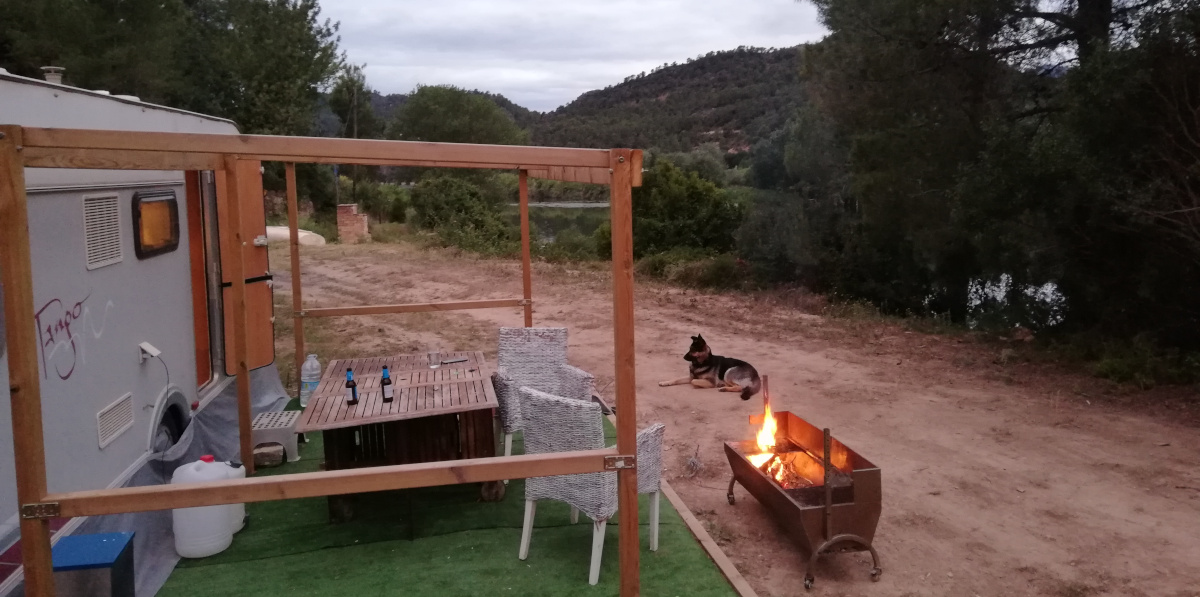 Caravan and Fishing in Spain. Our well-equipped caravan is located within our private fishery on the banks of the lower Ebro, have a look at our.  Fishing on Spain's River Ebro page for more information on tackle, bait, boats, and licences.
However, while the river is a major attraction to anglers it is also perfect for walkers and Cyclists.
Caravan and Fishing in Spain. The well-equipped caravan is close to the fishing on the Ebro, from our private fishery. Prices start from €65 per night and include up to 4 persons with a minimum booking of 2 nights. See Fishing on Spain's River Ebro page for more information on tackle, bait, boats, and licences.
The accommodation has a dining area, kitchen, shower room, double bed and 2 bunk beds and an outside patio area. This layout accommodates up to 4 persons using either the double bed or converting the dinning area into another single bed. The caravan is well equipped with electric hob, fridge/freezer, kettle, toaster, cutlery and utensils, linen, towels, TV, and DVD. To complete your comfort while Ebro fishing, its connected to mains electric, filtered water and airconditioned.
Most of the year the weather for caravan and fishing in Spain is outside weather. As such the patio is equipped with a dining table, chairs, and BBQ. For the occasions of inclement weather, the patio can be cover with an awning.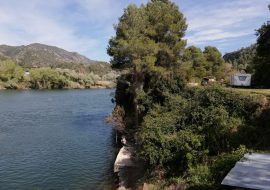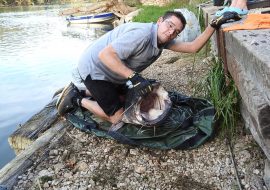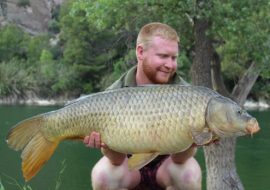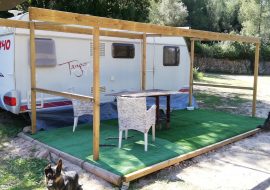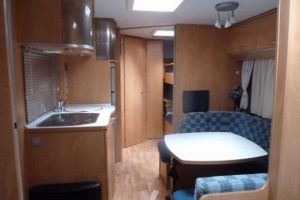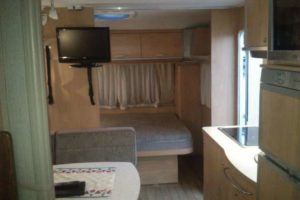 Price Availability and Booking
The price is per night for up to 4 persons and includes all taxes. To book our caravan follow these booking steps:
Check the Calendar for availability and select your dates.
Click the "Buy Now Button" which will display our caravan shop.
Follow the instructions. You will be asked for the following information.
Check-in date.
Check-out date.
Number of nights being booked.
Names and ages of your party.
Note the price is per night, so adjust the qty accordingly eg. if you are booking 2 nights adjust the qty to 2.
For any help or further information click below to contact us..
River Ebro Caravan Availability
If you are interested in camping please contact us. we have tents for Hire.