Extra Virgin Single Estate Olive Oil
Our High quality Olive Oil comes only from the first (mechanical) press, without heat or water being used and is placed in vats for 3 months to allow the sediment to settle. The oil is not filtered by any mechanical process. The oil produced is as natural as you can get.
Of course, guests who stay at El Figueral get to sample the oil first-hand as we always make "Ollie Oil" available as part of the welcome pack.
"Ollie Oil" is designated as an Extra Virgin Unfiltered Olive Oil by virtue of it being produced from irrigated olives grown only at El-Figueral and cold pressed traditionally in our riverside village of Benifallet. This process produces a smooth un-filtered golden olive oil that has a fruity, but almond taste, without bitterness but sweet and a little spicy.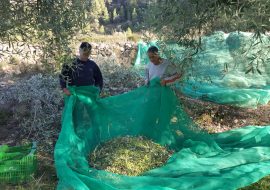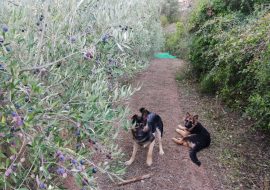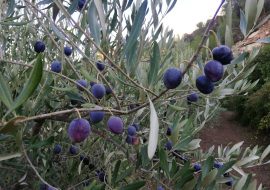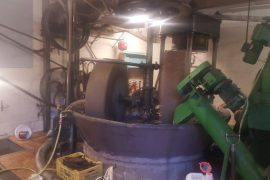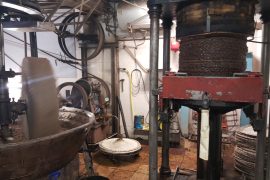 We only sell Ollie Oil direct via our online sales to our customers in the UK and Europe. Because of the sensitive nature of Olive Oil to uV light our oil is supplied only in green bottles. Our Standard sizes bottles are 250ml and 500ml, for bulk qty contact us direct.
Background to Olive Oil in Catalunya
Olive Oil is an ancient and integral part of Spain's culinary heritage. It has been produced in Spain since the arrival of the Phoenicians and the Romans who began refining the process while the Arabs perfected the technique during their occupation from 711 to 1492. Today Spain is the biggest producer of olives and olive oil in the world.
In recent years Catalonia has stood out for the quality of its olive oils and careful Catalan regulatory councils have imposed careful guidelines that protect the natural environment encouraging a keenly defined 'terroir' for the olive oils. Those made from the pea-sized, Arbequina olive range in colour from moss-green to nut-brown and are considered by many aficionados to make one of the best olive oils. This is due in part to the fact that they are exceptionally low in acidity.
Terra Alta PDO and Baix-Ebre PDO olive oils are flavoursome and aromatic oils
Olive oils, particularly those of Catalonia have a vast difference between them, ranging in colour from buttercup yellow to vivid green and in taste from sweet and fruity, to so bright and pungent you would swear they'd been infused with herbs. This is what makes Catalan olive oil great: the differences from one region and protected designation of origin (PDO) to another expressed through olives endemic to each place.
The region borders the mighty River Ebro the Baix-Ebre and the Terra Alta located in Aragon. The area has one of the oldest cultures of olive oil production in Spain, which can be seen by the olive trees adorning the region and which is best known for its Arbequina, Empeltre, Farga, Morrut and Sevillenca varieties of olives. Most of the land is made of small plots, Fincas, that are mostly located in the mountains with the olive trees planted in terraces supported by large dry-stone hand-made walls that often-had earth brought from other sites to add to the variety and mix of the soil types and add complexity to taste of the regions olive oil.
Farga, Morrut and Sevillenca olives produce clean, fruity olive oils with a distinctive note of green apples.
Arbequina does not have any bitter aftertaste and tends to be quite aromatic, giving fruity aromas, like banana and apple and like the rest of olive oils, has a high percentage of oleic acid, which helps to reduce the bad cholesterol (LDL) and increase good cholesterol(HDL).